🙂 On a drizzly October morning, I drove to Furry Creek golf course for Ruby & JJ's wedding. I was a bit worried about the rain, but Ruby was so so nice about it! It is Vancouver, so I guess it wasn't that surprising. But I just love how easy-going Ruby and JJ were 🙂 Ruby told me that I would love Furry Creek and I do! There were SO many cute places to photograph, not to mention, I got to ride in a golf cart!! 😀 I didn't get to drive it, but I don't know if I would've wanted to. Haha. Next time I'm on a golf course, I suppose!
Ruby & JJ's program! I loved their monogram~
Ruby told me she got this idea from Martha Stewart! The fabric denoted the table you were sitting at! So cool.
Everyone knows I have a weakness for shoes! Loved Ruby's flowery shoes!
Getting ready!
Ruby & JJ's daughter- Niki. She kept taking photos/videos on Ruby's cell phone. SUPER cute.
😀 I love JJ's expression 🙂
The new Mr. & Mrs. 🙂
Entering the reception! (A brunch reception- SUCH a good idea… everyone loves brunch!)
Baked penne & cheese. Mm. I think it was meant for the kids, but I ate some too 🙂
Salmon eggs benny
Instead of a traditional guest book, Ruby & JJ had their guests sign on fabric squares that they will incorporate into a quilt.
The punch was so colourful~
🙂 It's their monogram on their cake!!
🙂 Cake-cutting!
Cake-feeding!
Haha. I love the random guy giving them a thumbs up!! 🙂
Ahh, the adorable newlyweds!!!
I love this little tunnel!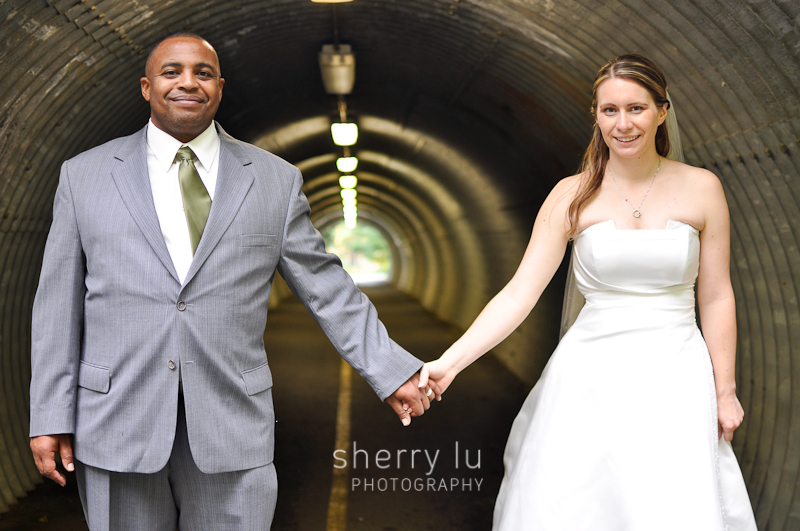 Love the way JJ looks at Ruby 🙂
And Ruby told me JJ is camera-shy. ;D
🙂 Thanks to Ruby & JJ for having me there to share in your special day! (And yes Ruby, I loved Furry Creek! Especially the beach- I can photograph there again and again!)