It's finals week. Which really means that I should be studying for my 3 remaining finals. I am going to call this a study break, and blog some photos. All this sunshine outside (in Vancouver, in DECEMBER!!!) is making me sad that I'm cooped up indoors studying. Before any of you suggest that I take my studying outside, I'd like to point out that the weather is below 0C (that's < 32F). Haha. So I've resorted to going through my photos from earlier this year (mainly spring and summer). Looking at them makes me all warm and fuzzy inside. Plus, since I didn't start blogging until June or so, these are still considered 'new' images!
Daisies. From the summer time. My first time using textures… (the added bokeh is a texture)
I'm not quite sure what this red flower is, but I also played with textures here; it's pretty fun….
Tulips… My family went to this tulip garden/farm in Washington this spring. This was taken with my old D40X, which did NOT autofocus with my Nikkor 85mm f/1.4. Yes, these were shot using manual focus…
More tulips. More manual-focusing.
Shot in the summer time. Some friends and I tried to go photograph birds in this bird sanctuary. The closest we got were these crows…
Fresh strawberries 🙂 Yum. (Pier 39 in San Francisco)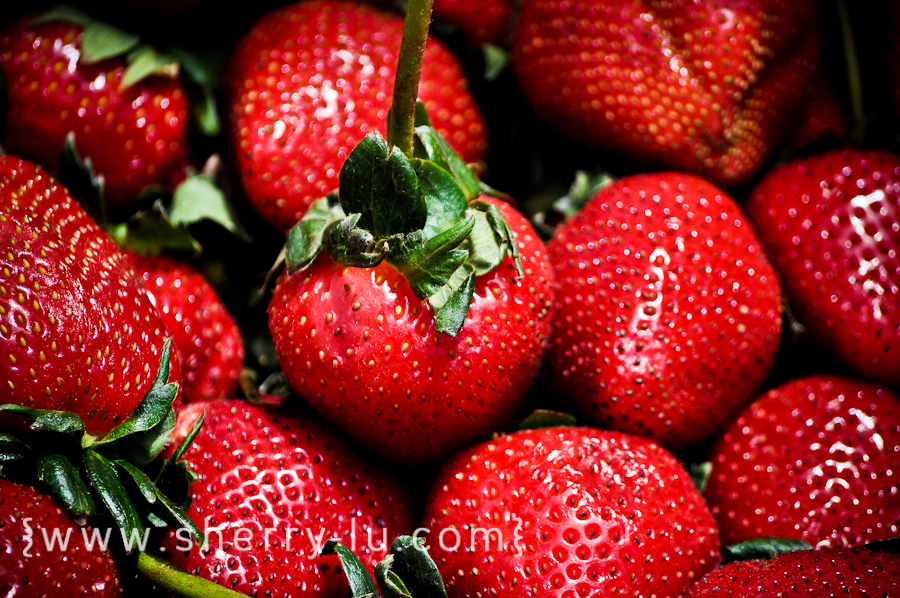 This must've been from early spring… I can't even remember. This is in my yard…
You may have noticed that it's not chronological, because we're back in spring! <3 I love cherry blossoms, and probably took 40231340 photos of them in the spring. Which I consider a feat, since it was all manual-focus. 😀
In this following photo, I dare you to spy a falling petal. (This is 100% luck. Not planned at all).
This photo is my current desktop photo. I love the warmness it brings…
Ok. Study break over. Must learn about cell cycle, stem cells and immunology. Oh, and metabolism. Whoopee.